Elizabeth Hahn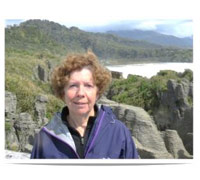 Elizabeth was raised in Waterloo County. Books formed part of her earliest memories. "From early memories of mastering Dick & Jane, receiving books for all important occasions and getting my first library card, reading has been an enjoyable and important part of my life," says Elizabeth.
A graduate of Stratford Teacher's College and Wilfred Laurier University, Elizabeth worked with the Waterloo Region District School Board for most of her career. "My career has had a reading focus. I worked with K-Grade 8 students who struggled to read. As a teacher librarian I worked with a full spectrum of learners. Keys to success come from finding a child's interests and passion, positive challenges, using learning games and lots of practice." After Elizabeth's retirement to Grey County, she joined the West Grey Public Library and worked part time running the Children's Programs. She became a board member of SGB Youth Literacy Council several years ago and helped with building our resources for tutors, learners and parents. Other interests include skiing, cycling, travelling with husband George "… and of course READING." As Elizabeth says, "Giving time to youth is not just worthwhile: it is so necessary."
---
Cheryl Lindsay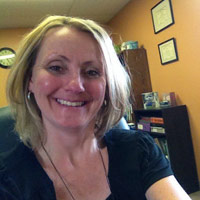 Cheryl D Lindsay, M.S., (S-LP), Registered Speech-Language Pathologist, graduated from Minot State University, North Dakota in 1998, with Master of Science Degree in Communication Disorders.
Cheryl has lived and practiced in the Grey-Bruce area since 1999 in a wide variety of clinical settings. She has received specialized training in several Hanen® courses, and continuing education related to autism spectrum, oral motor and auditory processing disorders. She has owned and operated a private practice since 2003 and received the S.Co.B.E. Award for Entrepreneur of the Year from the Saugeen Business Development Corporation in 2009. She regularly mentors high school, college and university students interested in pursuing speech therapy as a career.
Cheryl has an extensive background working with paediatric and school-aged children with articulation disorders, delays in language, stuttering, voice problems, at risk infants due to prenatal and birth complications, hearing impairments, cleft lip/palate, autism/pervasive development disorder, social language problems, oral motor and/or feeding difficulties and learning or other developmental disabilities. Cheryl has also worked in the community with adults, providing rehabilitation for motor speech disorders, stroke, traumatic brain injury, swallowing disorders, stuttering and voice problems.
---
Natalie McCabe

Natalie graduated from York University in 2011 with a B.A. Arts Hons. Major in History and Humanities. She graduated from the University of Western Ontario in 2012 with a B.Ed. She is currently employed as a teacher with the Blue Water District School Board.
In the spring of 2012 Natalie volunteered with the literacy council as part of her Bachelor of Education. She was immediately struck by "… the passion and heart of the SGBYLC in its commitment to provide literacy support in a variety of ways throughout our community." After this practicum experience Natalie also began to volunteer at a local school several afternoons a week. Her experience working directly with students highlighted the tremendous need students and their families face when trying to attain additional support outside the traditional classroom and school setting. It was these experiences which compelled Natalie to join the board and "…I'm honoured to serve the many learners in our community. My goal for the council is to increase our tutor enrolment. From my time living in the Grey Bruce area I'm confident that we are a community rich in commitment to our youth and together we can make a difference in our young people's lives through improved literacy."
---
Harvey McFadden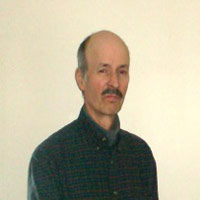 Harvey was born and raised in Paisley Ontario. His education began with high school and trade school – where he finished at the top of his class – and on to electronics education. For 35 years Harvey has been a Class A mechanic. Harvey's memories of early days included books, "I never did well in school but there were always Readers Digest around home and my granddad would loan me books. The more I read the easier it became to learn and as a mechanic you have to learn every day to keep up with advances in technology."
Harvey's commitment to Grey-Bruce youth is clear through his commitment to the SGB Youth Literacy Council, first as a tutor, and then as both a tutor and board member. " I have been tutoring for 13 years and it is rewarding to see students advance in their understanding. I think it is the lower achieving students that we need to bring up several levels and they will be the backbone of our economy in this area."
---
Brian Robin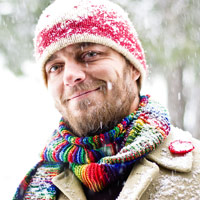 Brian graduated from the University of Toronto in 1999 with an MSc in Mathematics and spent many years teaching in large university lecture halls and small college classrooms.
He moved away from the city to rural Grey-Bruce in 2008 to work at his partner's family greenhouse. Brian has fully embraced country life, complete with organic vegetable garden, rubber boots, and a beard. As an avid amateur photographer, he spends much of his free time wading through swamps looking for photogenic frogs. His life-long love of learning leads to his life-long love of reading about frogs and the rest of the natural world. He joined the SGB Youth Literacy Council Board in 2013, and now serves as its chair.
Through Brian's teaching background and private tutoring, "…I've witnessed first-hand how easy it is for learners to get lost in the masses, and how individualized teacher-student contact can impact a student's success. Financial and geographic barriers can inhibit access to tutors and material, and I believe the SGBYLC provides an important service to our community."
---